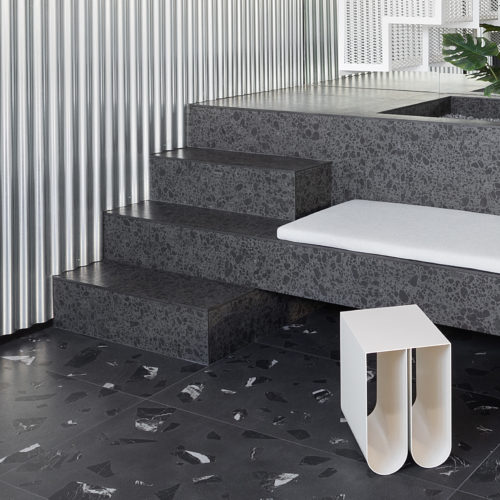 CREMYCO
Feeling Cremyco Fillings
Cremyco Fillings, a company specialized in the production of different forms of chocolate such as creams, coatings and decorations, has decided to reinvent itself and it's reflected in the new design in the Sant Quirze del Vallès offices.
Right from the entrance, and all throughout the space, there is a mix of materials with an industrial character -such as the stairs and metallic shelvings and metal-coated corrugated sheets – to keep the factory / warehouse essence and a constant wink to the product they make. Following this concept and their logotype, we've worked with the colour palette, the shapes and the combination of different materials that evoque the chocolate flakes, like the vinyl floor and the countertops of the communal kitchen.
In a more functional way, we've decided to completely change the distribution in line with the new company strategy. We've opened the visuals towards the warehouse located on the ground floor by designing a central volume made in translucent polycarbonate with wooden framed holes that creates windows, and places to work and rest. Besides, we've removed the partitions between the  offices to make a more diaphanous space and to encourage the communication between teams. Thinking in the clients and suppliers experience, we've created different waiting rooms with visuals oriented to the warehouse, the heart of Cremyco.
| | |
| --- | --- |
| Client | Cremyco Fillings S. L |
| Surface | 520 m² |
| Year | 2021 |
| | |
| --- | --- |
| Location | Sant Quirze del valles |